The IPC J-STD-001 Requirements for Soldered Electrical and Electronic Assemblies has emerged as the preeminent authority for electronics assembly manufacturing. The standard describes materials, methods and verification criteria for producing high quality soldered interconnections. The standard emphasizes process control and sets industry-consensus requirements for a broad range of electronic products.
Assembly process engineers, quality assurance supervisors, training managers and others responsible for the quality and reliability of soldered electronic assemblies are excellent candidates for the program.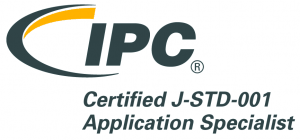 This program is offered as a service to industry. Those interested in company-wide quality assurance initiatives have an IPC-sponsored program to support their commitment to continuous operations and product improvement. IPC recognition sends a strong message to customers that your company is serious about implementing J-STD-001.
Any company that uses J-STD-001 or is considering its adoption can use the program to address the training requirement identified in the standard.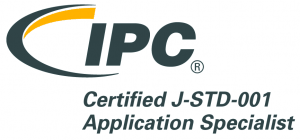 IPC-J-STD-001 Certified Specialist (CIS)
Soldered Electrical and Electronic Assemblies
Certified IPC Training
Training Schedule

Training schedule IPC-J-STD-001 CIS
Modules 1 to 5 (theory and practice)
Module 1:
Duration: ca 5 hours
Introduction, Policy and Procedures, Basic Requirements
Module 2:
Duration: theory - ca 2 hours, practice – 1 hour
Wires and Terminals
Module 3:
Duration: theory - ca 2 hours, practice – ca 1 hour
Through-Hole Technology
Module 4:
Duration: theory - ca 2 hours, practice – ca 1 hour
Surface Mount Technology
Module 5:
Duration: theory - ca 4 hours, practice – ca 1 hour
Inspection Methodology
Exam:
75 questions, open book, duration: ca 4 hours
Daily training plan:
  9:00 Start of the training
10:30 Coffee break
10:45 Continuation of the training
12:00 Lunch
13:00 Continuation of the training
14:30 Coffee break
14:40 Continuation of the training
17:00 End of the training
The exam day plan:
Last day of the training
  8:30 Start of the training
  9:00 Start of the exam
10:30 Coffee break
10:45 Continuation of the exam
14:00 Graduation and evaluation
 
See also other trainings